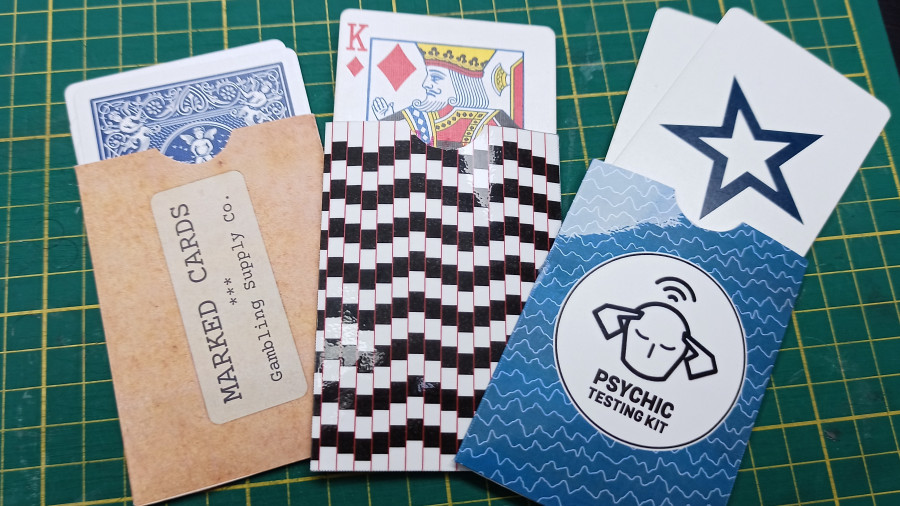 Just like a theatre set design begins telling a story before any actors step on stage, the look of your props can provide a jump-start to your presentations.
I've created a series of paper envelopes, sized just right for a small packet of poker-sized playing cards.
Rather than removing cards from a plain black vinyl wallet, these envelopes can set the stage for the magic about to occur. Each envelope design introduces a theme or concept which ties in to common themes for packet tricks.
Take, for example, this "Chase The Ace" routine. If you'd like to judge a trick by its cover, the little folder adds a touch of class to this street hustle.
Bonus! I discovered it also serves a purpose for the finale of Michael Skinner's "Ultimate Three Card Monte" See the video for an abbreviated performance.
With the printable pages, and instructions below, you can make your own envelopes which may inspire new ideas for your presentations. Here's three examples from the collection of printable packet envelopes, and how they might fit your performance.
Marked Cards Good for this trick where the four cards change to show big, bold marks on the back.
Optical Illusion Introduce the topic of illusions with this, where the red lines appear to not be parallel. Perhaps pair with Larry Jennings' Close-Up Illusion.
Psychic Testing Kit For any mentalism tricks such as B'Wave or a packet of Zenner cards.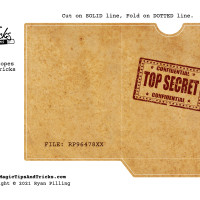 Top Secret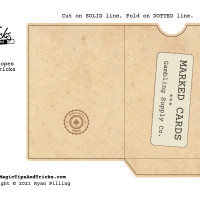 Marked Cards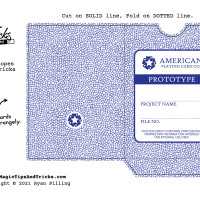 Prototype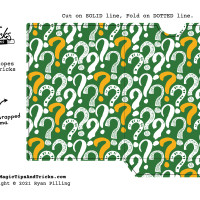 Questions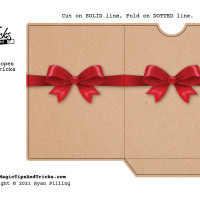 Gift Cards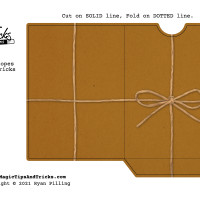 Brown Paper Package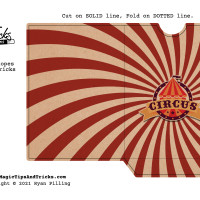 Circus
Psychic Test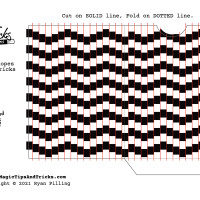 Optical Illusion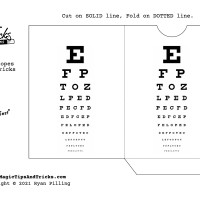 Eye Test
Caution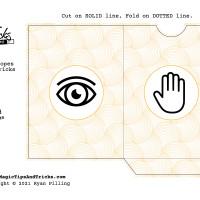 Hand vs. Eye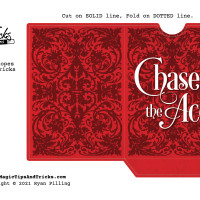 Chase the Ace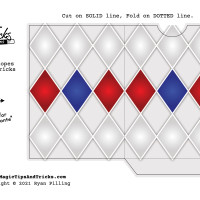 Color Monte
Download, Print, and Make
You can print and make your own envelopes. The PDF download includes six nine fourteen different designs. (so far!) You can print them all, or just the pages you want.
Important Printing Tips
Print from the PDF file, not images on this page.
Ensure you print at "Actual Size" or "100% Scale"
Do not "Stretch To Fit" or "Fit To Page" (your envelope will be too big)
Print the pages single-sided.
The envelope template is designed for 1 to 5 Poker size cards. For larger packets, 5 to 10 cards, I suggest printing the templates at 103% size.
If you'd like to design your own, you can download the blank envelope template.
Printable Packet Envelopes
This PDF file includes all the designs. Pick the page you like and print just that one, or print them all!
How to Make Envelopes
Laminate For Durability
If you want your envelopes to stand up to wear and tear, I like to use a self-adhesive plastic laminate to make my envelopes last. You can use laminating sheets from the office supply store, or carefully lay down strips of clear packing tape.
Cut
Cut out the envelope along the solid outline. It's best not to cut out the half-circle notch until it has been folded.
Score and Fold
Use a ruler to drag a score across the dashed line. This will ensure sharp, straight folds.
Glue and Finish
Glue the tabs, fold over the envelope, and cut out the half-circle notch. You're all done!