Elevate your magic show with table top stands to keep an eye on predictions and cards. With a few ready-made craft supplies you can put together a set of simple stands that bring your magic up to face level.
Long before the era of video-camera presentations magicians would use houlettes to bring a pack of cards up off the table for both visibility and hands-off fairness.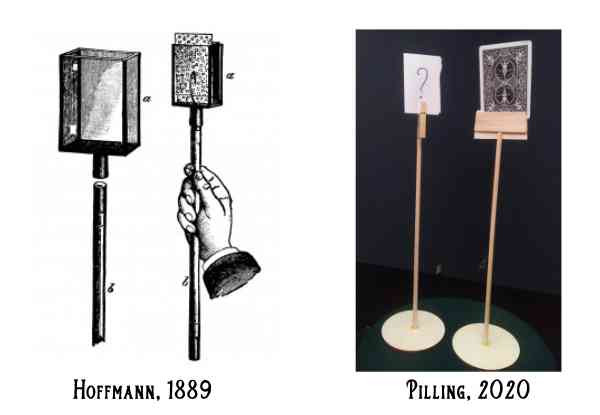 I like simple, dollar-store solutions. The sort of DIY magic props that could, in a pinch, be built in your hotel room after losing all your luggage. This could be built in a hotel room, except that it's most useful for a time when nobody should be leaving their home.
Watch Ryan make these stands live and un-cut. (except for the sticks)
You may not need my tutorial for this. Just do what needs to be done. Put a CLIP, on a STICK, on a BASE, and you're good.
This is not a new invention. These exist. If your nose wrinkles at the thought of "DIY", there is hope. They are often called "memo clips" or "photo clips". Most of them are very short, which may or may not work for you. You can find search out longer ones, often intended for retail store displays. All that sounds like more work than the 10 minutes it takes to build one.